11 Ways to Manage Your Online Reputation in 2021
In our personal lives, we're conditioned to think, "It doesn't matter what people say". But in the digital age, where online reputation management determines buyer confidence and client retention rates, that's simply not true!
It absolutely does matter what people are saying about your business online. But not all of it is helpful or even accurate, so it's essential that, as a business owner and individual, you make sure your online reputation is actively monitored and managed to remove all barriers to high revenues.
Let's first discuss what reputation management is.
Struggling to manage and build your online reputation? Fill out the form below to let our reputation management experts work their magic!
Contents
What Is Online Reputation Management?
Why Managing Your Online Reputation Is Important
How To Manage Your Online Reputation
How to Remove Negative Reviews on Google and Yelp
How to Remove Bad Airbnb Reviews
Top Review Sites You Should Focus On
Further Resources To Help You Manage Your Reputation Online
What Is Online Reputation Management?
Online reputation management (ORM) is when your business takes control of the conversation around your brand, products, and services online. ORM strategies ensure that when prospects and customers look your business up, the best and most positive information is displayed to them, leading to a positive psychological association with your brand.
When this association occurs, a prospect is far more likely to turn into a customer and a customer into a repeat customer.
Why Managing Your Online Reputation Is Important
Online reputation management is critical because it impacts how your brand is seen and, therefore, how much revenue your business makes.
Before buying online, most buyers run a quick search to check that the company is reputable and in good standing. Having a poor reputation reduces the chances that your buyer will complete a purchase with you.
Not only is this relevant to quick Google searches, but it's also crucial in terms of customer reviews. While 94% of US online customers state that positive reviews make them more likely to purchase a product, a whopping 92% share the stance that negative reviews make them much less likely to purchase.
Consumers treat reviews and Google search results as reputable word-of-mouth sources. The most infamous example of how poor reputation management can result in huge losses is United Airlines.
If you haven't already seen the viral video, the incident occurred at Chicago O' Hare International Airport in 2017. On an overbooked flight, staff chose to randomly select passengers to remove from the plane so that the plane's staff could be seated.
In a moment of puzzling frustration, the staff chose to remove a middle-aged Asian man by force. He didn't want to be removed because he was a doctor and had to be at a hospital the following morning.
The video shows United Airlines staff members violently removing the man from the plane, making even other passengers extremely uneasy and uncomfortable—a notion that many voiced online following the incident.
Rightfully, the officers concerned were fired. The CEO was also accused of gross PR negligence in light of the viral videos of the incident.
If only they had read this blog on how to manage their online reputation better, perhaps they would not have been in such a pickle.
In all seriousness, it can be very challenging to recover from a debacle of that size because it's not as simple as getting rid of a negative review, which is the case for most other companies.
If you need more convincing that reputation management is crucial for managing your online reputation and your business's success, especially after the onset of COVID-19, here are eight more reasons.
3 out of 4 customers trust a company with a positive online reputation. We can transform your online reputation. Fill out the form below!
How To Manage Your Online Reputation
#1. Audit Your Current Reputation
When you're starting on your online reputation management journey, it's essential to know where your business currently stands. The first critical step is to research what others are saying about your brand.
This can be done by Googling your brand and your relevant keywords to see what comes up about your business.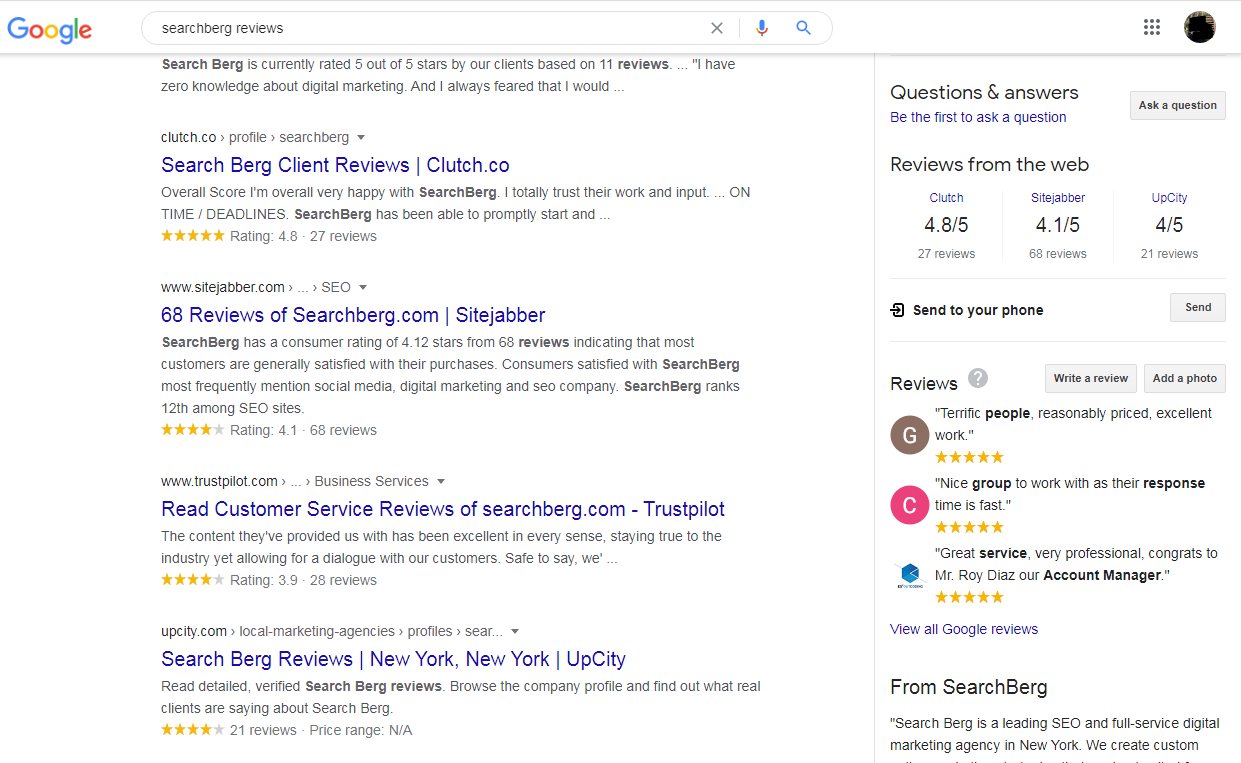 Make sure you're using an Incognito tab to do this because you don't want your previous search history to influence the results Google will display to you. This step is essential because that's how your customer will view search results on Google for the first time.
Go through and monitor relevant review sites such as Yelp and Forum sites where your business can be mentioned, such as Quora.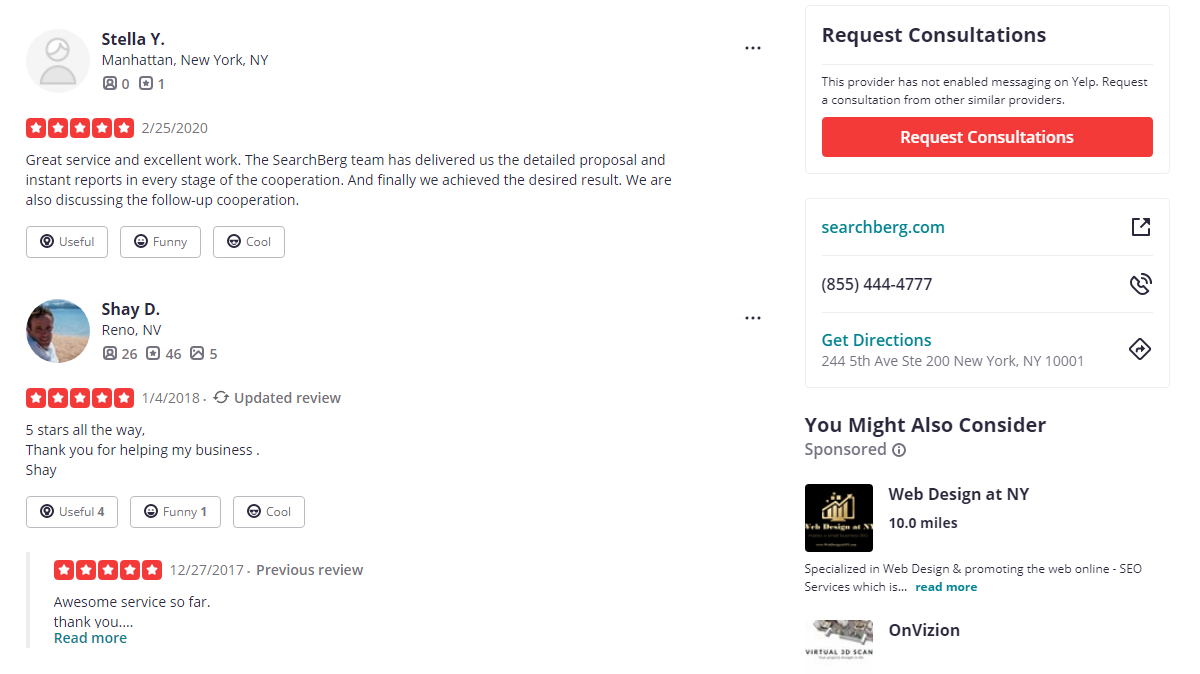 You can also monitor your social media accounts and go through what people say about your business on social media outside of only direct mentions.
You can do this by using social listening…
#2. Use Social Listening To Your Advantage
Social listening is the procedure of tracking social media websites/apps for posts that mention your business, product/services, competitors, and your niche as a whole.
While there are tools available to streamline this process, you can also do it manually to get going. Manual checking means regularly looking at relevant hashtags, search queries, monitoring forums, etc.
To track when websites contain relevant content, you can set up Google Alerts for specific search terms and queries related to your brand and service industry.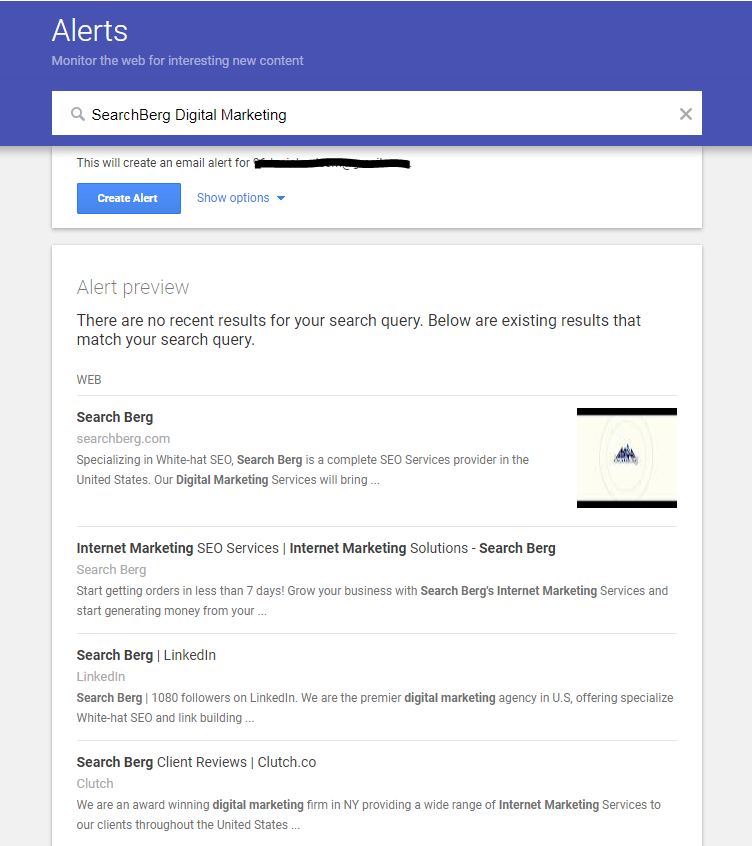 The only drawback with this free tool is that it can't monitor social media just yet.
#3. Build Your Brand's Authority with Helpful Content That Addresses Key Questions
The best way to build authority in your niche is to be seen as a reputable information source.
Your target customers have needs related to your niche that they want answers on how to meet. Give them what they're looking for. Provide them with knowledge, free of cost, via a blog, a guest post, a helpful infographic, etc.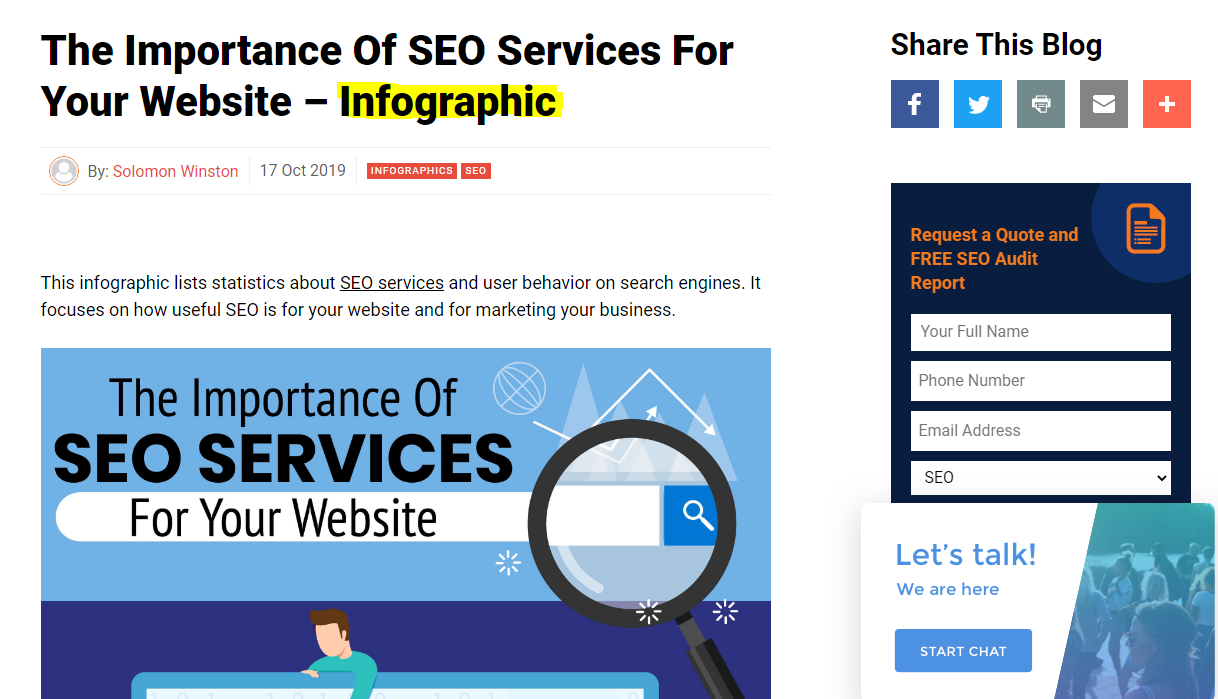 Regularly uploading content to your website and other high domain authority websites help you provide value, attract your target customer, and improve your rankings. It also sets a positive online reputation for your business as a thought leader.
High-quality, helpful content drives engagement and discussions because it shapes opinions and impacts buyer decisions.
When your rankings go up for the positive content your business puts out, this effectively lowers the rankings for negative content about your business. The best way to counter negative content is with a higher-ranked percentage of positive content.
When you create content, you should also encourage user-generated content because that's organic content from your users that's not created by you. You can encourage user-generated content via social media competitions and giveaways.
While you can choose whatever reward you want for this purpose, it doesn't even have to cost you anything because the prize can be as simple as featuring every user who creates content on your social media.
This can be a user-specific thank you post or a shout-out on your story if you're using Instagram or LinkedIn. Creativity is key when you're thinking of prizes. For example, if you own a consulting firm, this could be a free 20-minute consultation for the user who writes the most insightful post answering a question you asked in your recent blog.
If you ask a consumer-centric question, this can double for you as consumer research as well as a boost in engagement and relevance for your brand.
This exercise helps show that your business wants to hear from and engage with its customers and prospects, thereby centering your online reputation on customer care and feedback.
Did you know content marketing can increase your site traffic by 7.8x times annually? Fill out the form below to build your brand's authority with helpful content.
#4. Treat Your Customer Well, Always
The key lesson to take away from the United Airlines Debacle is always, always, take care of your customer and treat them well. Instill this principle in your employees as well.
Reputation management can take a turn for the worst if a brand or its employees don't value the customer, making one's online reputation challenging to improve. Consistently treating all your customers and prospects well results in a positive web reputation.
#5. Leverage Paid Advertising To Build Your Brand's Image Online
Paid advertising covers paid means to feature your business online. This activity includes Google advertising, sponsored social media advertising, and influencer marketing.
If you're new to PPC, here's a simple, comprehensive guide to getting you started in the world of paid advertising.
Influencers are also very helpful in improving a brand's online image because they regularly influence their audience's perception and opinions. So bringing brand positive publicity is not a tall order for them.
This point is especially true when you approach thought and opinion leaders within your niche. These are the go-to resources that your target customers approach to form their own opinions regarding products/services and businesses themselves.
So bagging an advertisement from an influential thought leader can change the game and spin the online world's consensus in your brand's favor quickly.
You need to convince the influencer of your brand's worth, though, so make your case well and develop a meaningful business relationship with the influencer. This will become key for future collaborations and networking opportunities for your business.
#6. Actively View Linking Websites and Remove Damaging Ones
All websites on the internet can link to your website. This link on their website that transports users to your site is known as a backlink.
Backlinks can be beneficial because not only do they provide your site with referral traffic from the originating site, but if the site in question has a solid SEO foundation, it helps your rankings on Google as well.
However, because anyone can link to your website, things can take a negative turn when the links are spammy, irrelevant, or from a website that's low quality and performs black-hat SEO techniques.
Google punishes websites associated with spammy websites. So you want to regularly audit which websites are linking to yours. A malicious tactic that some insecure competitors use is negative SEO. They purposefully set up spammy websites and links to your website in an attempt to lower your rankings in search engines. This practice can be unsettling to witness, but you need to know that you can remove these spammy, damaging links.
This is done using the disavow tool from Google. When you disavow a link to your website, you essentially tell Google not to take that link into account when it's deciding your search engine rankings.
To successfully disavow spammy links to our clients' websites, we make a list of the URLs we want to disavow. Then, input the data we've gathered into the disavow tool. Remove toxic and spammy backlinks with our Backlink Audit services.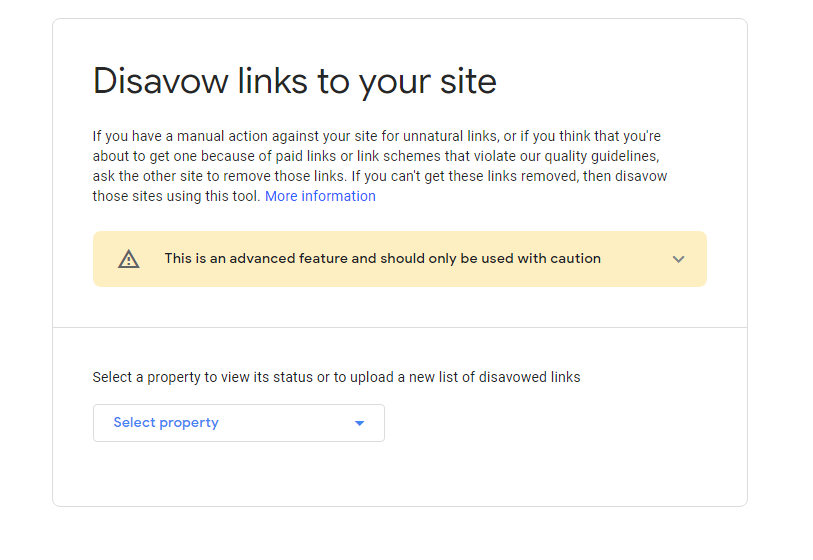 #7. When Necessary, Hold Yourself Accountable
It's important to be transparent in your communications, especially on social media. Being transparent is important because social media is a tool that allows you to interact with your audience directly.
The point of having social media to connect with your audience is to keep them updated on your business's ongoing activities. If there's even the slightest wind of a dispute, you can use your social media to put out a true statement to quell concerns and set the record straight. A well-thought-out post serves as a trustworthy voice of reason amid chaotic debates and rumors.
If your business has made a mistake, admit it, discuss what you've learned from the experience and how you'll do differently in the future. Then, commit to doing better in the future.
#8. Proactively Deal with Negative Reviews on Facebook
As an online marketing and reputation management firm, we often have businesses ask: can I remove a bad review on Facebook?
Facebook is a powerhouse marketing platform. With Facebook Business, businesses can hyper-target customer personalities and demographics to match their target audience to the T. But even the best businesses receive negative, often fraudulent reviews on their Facebook pages.
It's vital that a business respond with a comment to have the bad review removed form Facebook. The key in this comment is to have it conveyed where your business stands in a professional way so that the review can be reported to Facebook on your behalf for removal.
An example of such a response could be:
"Thank you for contacting us. We take our customer support very seriously. According to our records, we found no order associated with your name or email ID and believe this review is erroneous in nature. Please contact us for further clarification. Otherwise, we will flag this review for Facebook to remove shortly."
A negative review can be removed from a Facebook business page using the report option if it doesn't follow Facebook's community guidelines.
#9. When in Doubt, Work With a Professional
At this point, you've gained a solid foundation on how companies successfully manage their online reputations. But there's no replacing a reputable professional in reputation management who has years of experience on you in the game.
It's important, as a business owner, for you to know when to delegate tasks that will take you far more time to master to get into detailed communications with a reputation management expert. This will help you improve your brand's online image and increase buyer confidence fast, thereby skyrocketing your revenues in a shorter period of time.
A reputation management professional can also be extremely beneficial in managing your listings and removing negative reviews.
#10. Manage Local Listings
Your business is also likely to be discussed on platforms outside of your own. It's essential to either locate these listings and claim them as yours or have those listings created.
Claiming your business on review platforms like Yelp and Google+ allows you to respond to reviews and influence which of them are more strictly moderated.
We can help you claim or create a Google My Business and Yelp listing.
#11. Respond to Bad Reviews/Get Rid Of Irrelevant Ones on Platforms like Google, Yelp, and Airbnb
This applies to all the major reviewing platforms, including Yelp and Google+, job application websites like Indeed and Glassdoor, and rental listing sites like Airbnb.
You may have tried to find out how to remove bad reviews. Only have reviews that are fake and defamatory removed. We don't recommend removing reviews by genuine customers; this can effectively lead to a PR nightmare. However, there are some types of reviews that you can remove.
How to Remove Negative Reviews on Google and Yelp
When it comes to removing negative reviews from Google and Yelp, get someone on board who has an idea of each platform's policies, because guess what, it's not as simple.
You can remove negative reviews on Google if it's flagged—for example if the review is fake, defamatory, and racially insensitive, including explicit content and hate speech, and/or serve to bully/harass.
Google is pretty clear about when you cannot delete a review: for example, if you "disagree with it or don't like it".
Another thing you want to keep in mind is that no employee is allowed to leave a review. Whether the employee is current or former, employees cannot leave reviews for a business. This clause is part of Google's guidelines. The clause falls under the "Conflict of Interest" segment.

When someone leaves a particularly negative review, it's always worth having someone research that review to figure out whether it's malicious in intent and can be flagged.
For example, another policy of Google's is that an employee cannot leave a review for a competing business. Again, this would be a conflict of interest. So even if some competitor decides to send their employees after your business with negative reviews, these reviews could be removed from Google.
Your website gets traffic when an article or guest post is published; when that happens, your business may start to garner reviews. This can be a positive experience; however, it is still important to have these reviews monitored.
Note: It's important to mention here that when a review is flagged, Google takes several days to assess the case to determine whether it can be removed. It does not, unfortunately, guarantee a removal or deletion.
What to do When You Can't Remove the Review from Google
This happens when Google reviews a claim regarding a review and decides to leave the review up. It's just not breaking the policies to the extent that it needs to be removed. In this case, your best bet is to respond to the review effectively.
To do this, first, apologize for their less-than-satisfactory experience and thank them for providing their feedback. Ensure that the conversation has an end-point on the public review platform and allow them to provide you with further details privately so that you can help resolve their problem. This can look like providing them with contact information or taking down theirs. This helps maintain a positive online reputation for your business.
This way, the negative review stands out less among your reviews. When it doesn't stand out as much, this makes it easier for a prospect researching your company to write it off as a one-off negative review, as opposed to a deeper issue.
If the review is fraudulent, though, and for some unknown reason, Google rejects your flag, the response strategy needs to be completely different.
A response should still be crafted. However, now, the approach would aim to professionally convey that the review seems fraudulent. Evidence of this form includes a lack of records, order numbers, name matches from your customer database, a picture uploaded that doesn't match your store, etc.
In a way, the person that deals with responses needs to play a (polite) lawyer as well, subtly poking holes in the fraudulent review's argument and base.
Because each platform is unique, it's important for the person managing your business's online reputation to be thoroughly aware of not only the general rules but also platform-specific rules that can help you get rid of negative reviews.
How to Remove Bad Airbnb Reviews
Airbnb reviews can be wild because not only is a host providing a service, but the service is an entire continued living arrangement. Also, unlike Google and Yelp, Airbnb isn't just a review site but is the platform itself that hosts use to run and promote their listings.
So a low-ranked review can not only affect the host's online reputation, but it can also drag down their listing's rankings in Airbnb's search results.
Managing your online reputation on Airbnb requires expertise in navigating Airbnb reviews. It requires skills through learning and experience regarding which negative reviews are qualified and morally acceptable according to Airbnb's policies.
There are some key ways that Airbnb reviews can be flagged for removal.
1. Extortion
In this case, the guest has visited the listing and completed their stay, but they adamantly claim they won't leave a positive review unless the host provides them with a special discount or deal.
This can turn ugly when guests threaten Airbnb hosts with a negative review if the host refuses. This falls under extortion under Airbnb's Dispute Moderation for Reviews, and the host can have the negative review removed.
2. The guest in question hasn't stayed at the listing
If a guest hasn't stayed at a listing themselves but leave a review, this doesn't add up. Because this practice is in itself against Airbnb's policies, it's more challenging for a host to prove their case after the stay is already complete. It's not impossible, but it does take a level of expertise and finesse in dealing with Airbnb.
3. The review contains irrelevant and biased information
The idea for Airbnb reviews is to help other potential guests make informed booking decisions. If a review contains irrelevant information unrelated to the guests' experience, the review will be deleted.
Similarly, if a review was posted by a competitor in an effort to affect the host's rating, it would be deemed biased, and the the review qualifies for removal.
There are many more cases, but for the purposes of this blog, we've limited our scope to these 3 instances which come up the most. For specific cases, especially complex ones, it's best to reach out to us to navigate getting rid of negative reviews.
Top Review Sites You Should Focus On
Your business can get even more reviews by diversifying the channels through which customers can leave reviews. To help you, we've compiled the following list:
Further Resources To Help You Manage Your Reputation Online
Request a free SEO audit report.
Promote your Google My Business listing.
Wrapping Up!
Now that you've discovered a good chunk of what it takes to manage your reputation online and how to get rid of bad reviews, it's time to get in touch with the professionals who can handle all that for you.
One of the leading digital marketing services across the US, we offer expert reputation management services to help your business succeed.
For more information about our services, call 855-444-4777.
We've helped over
30,000
businesses rank.
Let us inspire you.
Fill out the form to schedule your call: