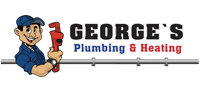 George's Plumbing and Heating is a renowned company based in London, ON, that provides 24-hour emergency repair and installation services for HVAC systems. Their SEO strategy was struggling with only a few keywords ranking on the first page, many in the far end of search results.
Despite offering premier-quality services, George's Plumbing and Heating was struggling to attract customers and reached out to Search Berg to broaden their customer base and become a leading plumbing company in ON.
Search Berg used state-of-the-art SEO tactics to update their website and deployed a comprehensive digital marketing strategy to help George's Plumbing and Heating rank higher for local search in London, ON. We diverted organic traffic from several channels to George's Plumbing and Heating's website, and as a result, helped them make a whopping jump from the 55th rank to the 3rd in Google's search results. They also rank on the first page of Google's SERPs for 8 competitive keywords!
| Keyword | Rank |
| --- | --- |
| Water Heater Installation London Ontario | 1 |
| Tankless Water Heaters London On | 3 |
| Boiler Repair London On | 5 |
| Tankless Water Heater London Ontario | 5 |
| 24 Hour Furnace Repair London On | 9 |